Why Choose Chiropractic Care?
Why Choose Chiropractic Care?
Written By Destination Wellness on November 23, 2020
---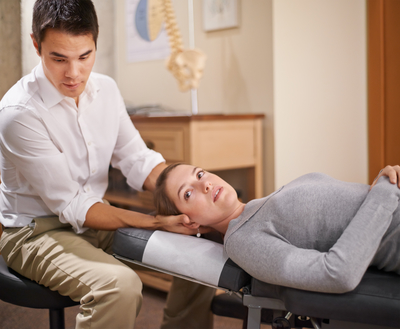 Chiropractic care is well known as an alternative form of healthcare for those seeking various treatments, including pain management, stress relief, active & passive therapies (PT), and so much more. It's quickly becoming a preferred alternative for people wanting a more holistic approach to their health and wellbeing. In fact, research shows that 77% of those who sought out chiropractic treatment in the last year said it was "very effective."
What is Chiropractic Treatment?
When people think of chiropractic treatment, they often picture someone lying on a table and having their neck or back snapped, resulting in a rather off-putting cracking noise. Sure, while some patients experience some minor popping and cracking during their adjustments, that's not all chiropractic has to offer.
There are several different types of chiropractic treatment options available to patients experiencing a wide variety of symptoms – pain, inflammation, and various injuries
Some of the most common chiropractic treatment options available to patients include:
Manual adjustments of the spine, neck, and joints
Spinal decompression
Myofascial treatments & Massage Therapy
Instrument assisted soft tissue manipulation (IASTM)
Active & passive therapies (PT)
Cold laser therapy
Acupuncture
Therapeutic stretching
Your treatment will depend on your condition. When you come in for your first appointment, you'll sit down and talk with the chiropractor about your symptoms and your full health history. Your chiropractor will then perform a comprehensive set of examinations and possibly refer you for diagnostic imaging (if they are clinically relevant). These steps ensure that a treatment plan is set up to address what is causing your symptoms.
Once your chiropractor has all the information they need, they'll sit down with you and discuss your treatment options.
What are the benefits of Chiropractic Care?
Research shows that chiropractic care has many benefits for those who use it – both occasionally and as a regular part of their health and wellness routine.
One of the most highly cited benefits of chiropractic treatments is the relief of chronic low back pain. Patients also find relief from:
Headaches
Joint paint
Arthritis pain
Muscle spasms
Sports injury
Chronic stress, and so much more
Even more exciting is the research showing that people who seek out chiropractic care are less likely to turn to opioid use. A study in 2019 showed that patients who chose to see a chiropractor as their initial caregiver for their low back pain have a 90% decrease in their odds of opioid usage!
Chiropractic Care in Manalapan, NJ
If you're looking for an alternative option to help boost your health and wellbeing, then chiropractic care at the Destination Wellness Center could be just the solution you've been looking for.
Have questions? Then contact our office today or call our office at (732) 780-7333.

Posted In: Chiropractic Adjustments