Should You Consider Custom Orthotics?
Should You Consider Custom Orthotics?
Written By Destination Wellness on December 23, 2020
---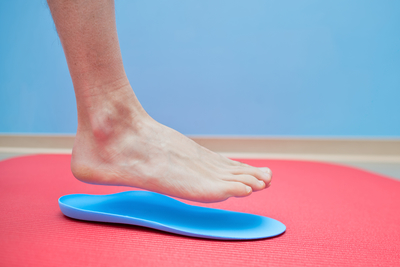 Low back pain is a common condition that millions of Americans suffer from daily. While numerous conditions can cause low back pain, poor posture is one of the most common causes. This can be due to poor workplace ergonomics, spinal deformities, and just every day poor practices, like hunching over a laptop or excessive texting. There are other conditions, such as a tilted pelvis, which can cause this pain. Foot pronation, or flattening of the foot arch, can cause back pain in itself. While traditional chiropractic treatments can help, you may require additional assistance in the form of orthotics especially if foot posture problems like pronation are involved.
How Do Orthotics Help Low Back Pain?
When you think of low back pain, your mind likely doesn't go to orthotics as a form of treatment. However, they can prove extremely beneficial, especially when they come in the form of custom orthotics that are created with your specific needs in mind.
A custom orthotic is designed to help properly position your feet, lower extremities and pelvis to balance your body by correcting structural imbalances. For example, if your pelvis is tilted, it can result in one leg being naturally longer than the other. If left untreated, your tilted pelvis can lead to spinal misalignment that can then spiral into several other issues, such as:
Chronic headaches
Upper/Lower back pain
Pain in the joints of the lower extremities
While some patients can find relief with generic orthotic inserts, most patients need to have a custom-built orthotic that addresses their specific imbalance or conditions, such as custom made medically necessary foot orthotic to help support their specific imbalances. Other conditions that may benefit from the use of orthotics include:
Sciatica pain
Drop foot
Plantar fasciitis
Foot Pronation
Pain in the lower extremities
Achilles tendinitis
Custom Orthotics in Manalapan, NJ
Here at Destination Wellness Center, we are proud to bring patients custom orthotics from Foot Levelers. Clinical studies have shown that orthotics from Foot Levelers help reduce low back pain by 34.5% alone. When foot levelers orthotics are combined with a specific treatment plan, results can be far greater..
Once Dr Allen has a chance to sit down and speak with you about your symptoms, take your health history and perform a comprehensive set of examinations (including Foot Levelers digital laser measured foot scan), he'll be able to determine whether or not custom orthotics are right for you.
Do you think you could benefit from custom orthotics? Then contact our office today or call our office at (732) 780-7333.

Posted In: Chiropractic Custom Orthotics