Can Chiropractors Provide Adequate Headache Treatment?
Can Chiropractors Provide Adequate Headache Treatment?
Written By Destination Wellness on October 12, 2020
---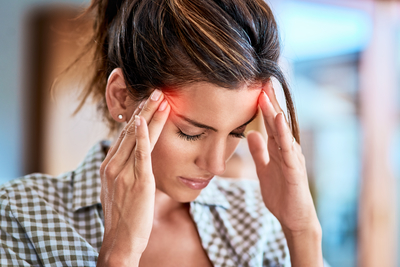 You can ask just about anyone, and they'll tell you that they've experienced a headache or headache pain at some point in their lifetime. In fact, according to The American Journal of Medicine, the lifetime prevalence of headaches is approximately 96%. While most individuals can handle their headache pain with the use of home remedies or over-the-counter pain medication, millions of individuals suffer from pain that is so bad, and they must seek out headache treatment from either their chiropractor or their medical team.
Headaches Come in Many Forms
In most cases, headache pain is easily manageable. However, many people suffer from pain that is so debilitating, it interferes with their daily life and decreases their overall quality of life. That's why it's essential to understand that headaches come in over 150 forms and are typically split up into two different categories: primary headaches and secondary headaches.
Primary Headaches
Primary headaches are often described as a condition, not a symptom. This means that they are caused by misalignment of the body, tension in the muscles of the head and neck, or even chemical activity within your brain.
Primary headaches often include:
Migraines
Cluster headaches
Tension headaches
Secondary Headaches
Secondary headaches are described as a symptom of an underlying condition. These headaches are often caused by:
Sinus/Ear infections
Blood clots in the brain
Tumors
Concussions
Dehydration
Dental problems
Headache Treatments Through Chiropractic Care
While many people turn to their primary care physician seeking headache treatments, more and more people are taking the time to learn about the many benefits of chiropractic care.
The goal of chiropractic care for headache treatments is to find out what is causing the pain, not merely treat the symptom. That's why your chiropractor will utilize several different treatment methods to help address the cause of the pain, which will help you find real, lasting relief.
For instance, a standard chiropractic treatment method will include a Chiropractic Adjustment of your neck and spine. This helps to realign the body back into its natural position, taking any pressure off the spinal discs or other joins that could be causing your pain.
Headache Treatment in Manalapan, NJ
While headaches may be common, they shouldn't be written off. At Destination Wellness Center, we understand that there are many reasons behind your pain and will work one on one with you to get down to the cause and create a customized treatment plan that garners you real relief.
Are you in search of headache treatments that address the root of the problem, not just mask the pain? Then contact us today or call our office at (732) 780-7333.

Posted In: Chiropractic Headache Treatment